SYSTEMS AND INSTRUMENTS
The main activity of the company is the painting. This process concerns products belonging to a wide range of sectors, such as Automotive, Household appliances, Electronic, and Illuminating engineering.
The application processes of the painting are completely computer-based and, thanks to the use of anthropomorphic robots, guarantee high flexibility and steadily in the management of the production processes.
The adopted production management, allows FUTURA to take care also of customized and very small series.
The characteristics that differentiate each production facilities allowed moreover the management of parts with different dimensions.
The company arranges 3 painting lines provided by anthropomorphic robots and computerized-based systems of paint distribution and flame treatment.
The painting process is completely controlled in all its phases thanks to the pressurization of the temperature and humidity of the environment.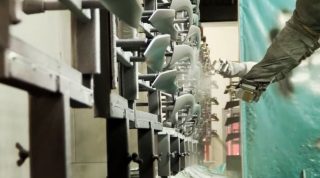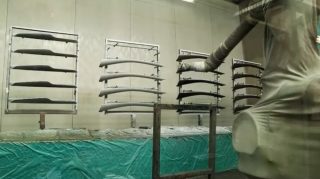 MATERIALS
FUTURA has developed, along the years, the capacity to realize processings with paint both solvent-borne and water-borne on different thermoplastic materials: PA , PC , ABS , PS , PP , etc.
Similar solutions are applied to components made of Zama, aluminum, and light alloys.
The finishings are done with one or more hands, according to the indications of the customer, and could be chosen on a wide range of possibilities: soft, metalized, and other special surface finishing.